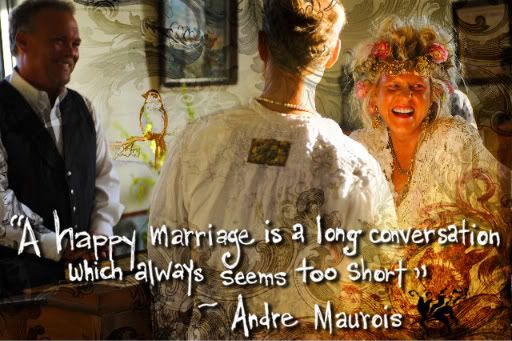 Hi Everyone,
John and I wanted to share the photos of our sweet, little wedding featured in Romantic Country Magazine now in stores until Sept. I only waited twenty-two years for John to ask me to marry him, so you can imagine what my heart was feeling! What a perfectly beautiful day!!! Thank you to all of our friends and family for making it so sweet and special. Thank you God for the "awesome" love!
"Happy summer" - Ahhh, how I love summer; the fireflies, the crickets, the soft flowing river, and star gazing in the warm grass!
"Rest is not idleness, and to lie sometimes on the grass under the trees on a summer's day, listening to the flowing water, or watching the clouds float across the sky, is by no means a waste of time."
--- John Lubbock
"I have spread my dreams beneath your feet ; tread softly as you tread on my dreams" W.B. Yeats